Home
The Skagit County Master Gardener Foundation supports and promotes the following WSU Skagit County Master Gardener Programs:
Join our mailing list for info on events
• Volunteer maintained Discovery Garden to inspire and educate gardeners
• Weekly Plant Clinics in Anacortes and Burlington to diagnose plant problems and provide assistance with plants, trees, landscaping and gardens including pest and disease identification
• Monthly Ask a Master Gardener Booth at the Mt. Vernon, Sedro-Woolley and Concrete Farmers Markets to provide assistance with plants, trees, landscaping, and gardens.
• Monthly Know & Grow gardening lectures
• Mentors for Rain Gardens and Community Gardens
• DIG-IT! elementary school program
• Skagit Master Gardener Plant Fair, held annually the Saturday of Mother's Day weekend.
• Speakers for events and community groups
Check out our printable Resources Guide
2022 Training Portal
Important info for our Class of 2022!
Discovery Garden
Located at the WSU Northwestern Washington Research and Extension Center (NWREC) Mount Vernon, WA
Open free to the public seven days a week.
WSU Skagit County Extension Plant Clinics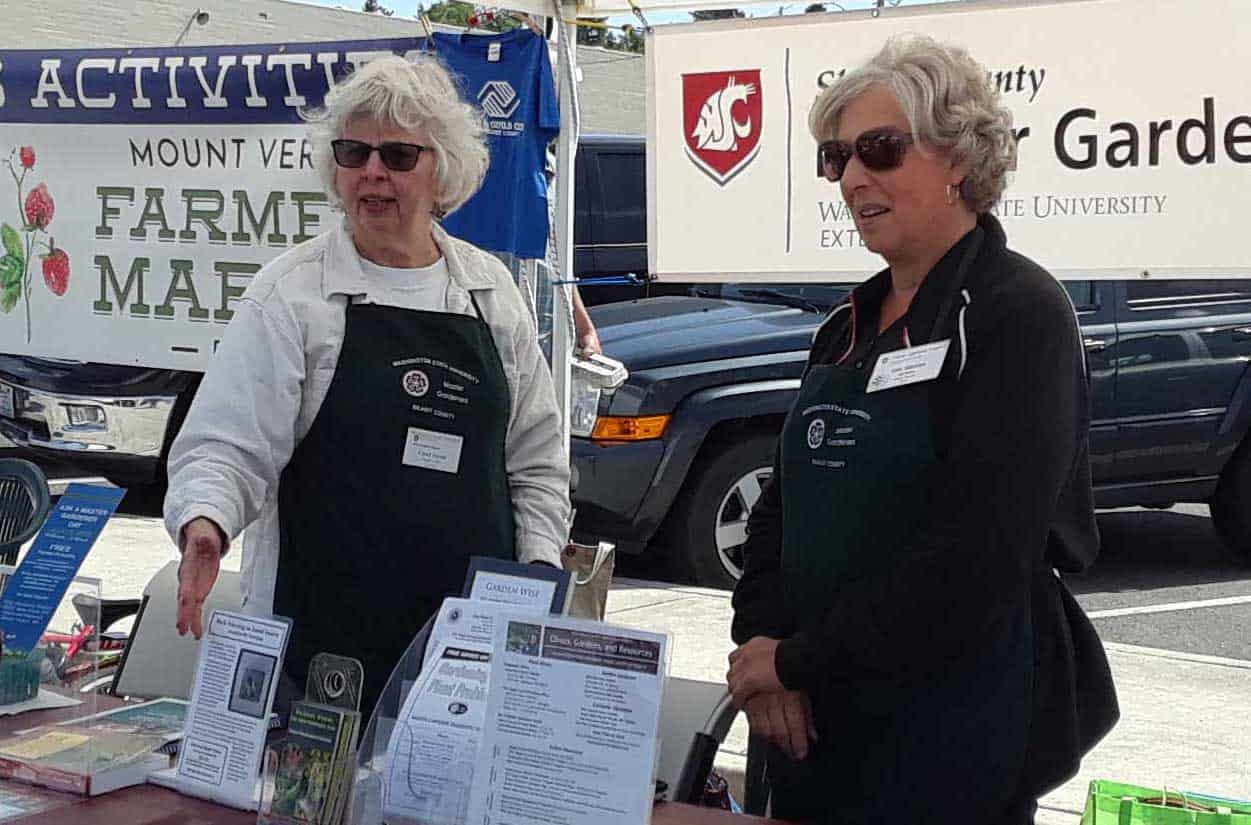 Find out more and check out the Master Gardeners favorite online references
Deborah Smeltzer
Washington State Master Gardener of the Year
(see the article in the Herald)
Skagit Valley's own Deborah Smeltzer was selected as 2020 Master Gardener of the Year by the Master Gardener Foundation of Washington State.  Congratulations to this amazing woman who has given over 5,200 volunteer hours to the program since qualifying as a Master Gardener in 2012.  The award committee selected Deborah from eleven well qualified nominees using an unbiased point system to score applications submitted by Washington State Master Gardener County Chapters.
Master Gardeners are trained and certified volunteers who work with WSU Extension Offices to support home gardeners by promoting science-based gardening practices and education.  Since becoming a Master Gardener, Deborah has been involved in every aspect of the program.  While still an intern, she started organizing the syllabus and training materials.   After qualifying, she remained passionate about training and mentoring new Master Gardeners, helping to train 147 perspective Master Gardeners.  When asked about her role, she said "There are two things I really love about our Training Team—getting to work with truly dedicated and experienced volunteers, and getting to know the Master Gardening newbies and help them find where they fit into our Skagit MG Program."
Deborah was President of the Skagit County Master Gardener Foundation Board from 2016 through 2019.  The Foundation organizes fundraising to support the program and operates the Discovery Garden in Mount Vernon.  Deborah has focused on expanding the use of the Discovery Garden to educate the public about sound gardening practices.  She helped establish the Joint Counties MGF Forum that meets twice a year to share best practices among MG foundation members from neighboring counties.  She also championed the establishment of Star awards to recognize MGs for exceptional "behind the scenes" service.
Deborah was Chair of the annual Plant Fair from 2013 to 2015.  The Plant Fair is the primary fund-raising activity that supports outreach programs such as Plant Clinics, 'Ask a Master Gardener' booths at farmers markets and fairs, Know and Grow lectures, and DIG-IT! elementary school programs.  Except for the part-time WSU Extension Master Gardener Program Coordinator position and the annual training program, all Skagit County Master Gardener programs, including the Discovery Garden, are funded through the efforts of Master Gardener volunteers.  The 2019 Plant Fair held at the Skagit County Fairgrounds on the Saturday of Mother's Day weekend was attended by over 2600 people.
Deborah's passion for science was evident as a young adult.  In 1976, she completed a B.S. in Biology followed by an M.S. in Medical Microbiology in 1978 from the University of California, Irvine.  Later, she added to her skill set by completing an M.B.A. from Stanford University Graduate School of Business in 1985.  She spent over 30 years in the biotechnology industry as a financier, corporate officer, business manager, and public spokesperson.
She began actively gardening in the early 90's when she and her husband purchased a new home in the wooded Baltimore suburbs and began to experiment with ornamentals and garden design.  Over the years, she has lived in California (S & N), Maryland, Oregon and even France and was able to experiment with different ecosystems learning about ornamental and vegetable gardening.  In 2009, they retired to the Skagit Valley and purchased a home on six acres.  With some extra time on her hands, she pursued training to become a WSU Master Gardener.  Her background in science and business combined with a passion for adult and youth education was a perfect skill set.
Deborah has been an unstoppable force contributing to the Master Gardener program.  With Deborah's award, this is the third time in eight years that Skagit has been recognized with a statewide Master Gardener of the Year.  The Skagit County Master Gardeners are proud of our fellow Master Gardener, and thank her wholeheartedly for everything she does for the Master Gardener program and the community.   Well done!