Cool Color Border
Are you needing to feel cool and relaxed? This border creates a cool-feeling border by including plants with texture and shades of blue, green, purple, lavender, silver and white.
A shady corner in the Cool Color Border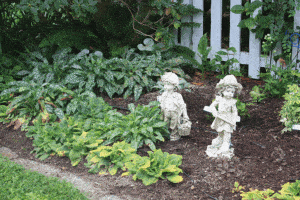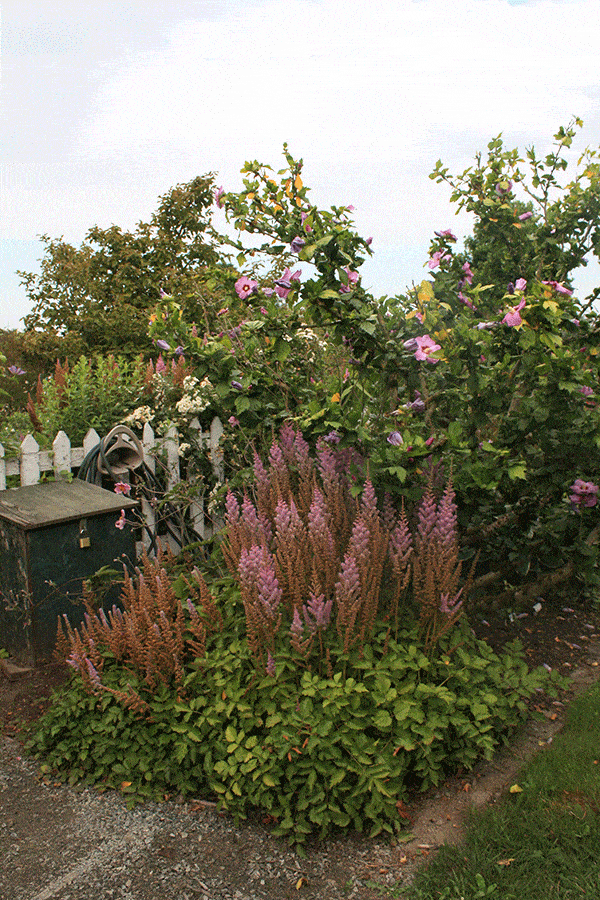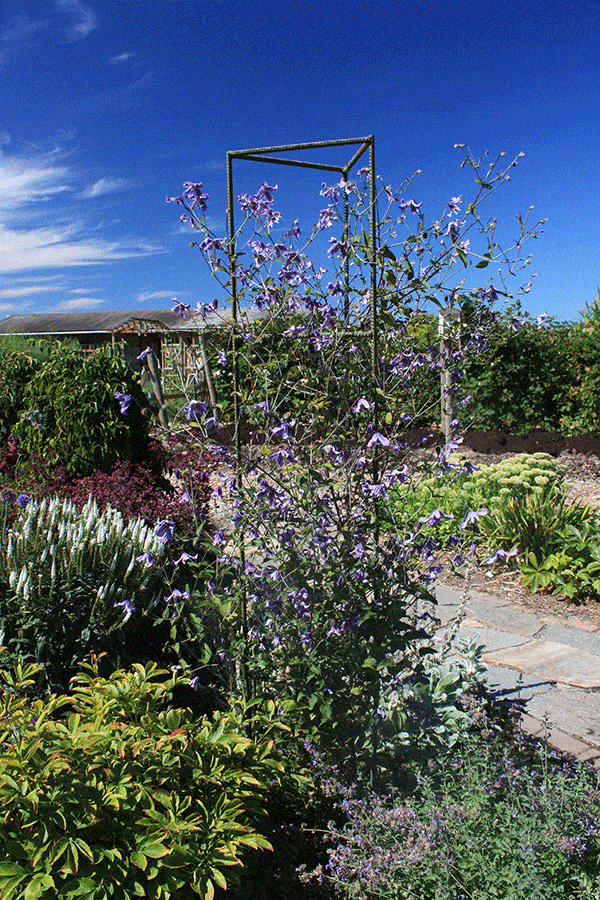 There are lots of pretty colors in the garden! 
                             HIbiscus syriacus
Plants in this section of the Cool Color Border include: Salvia farinaceae 'Victoria Blue', front left; Paeonia, front  right; Nicotiana sylvestris, center left;  Echinops bannaticus 'Blue Glow', mid center; Veronica longifolia  'First Lady', right center; and Clematis 'MultiBlue' far right.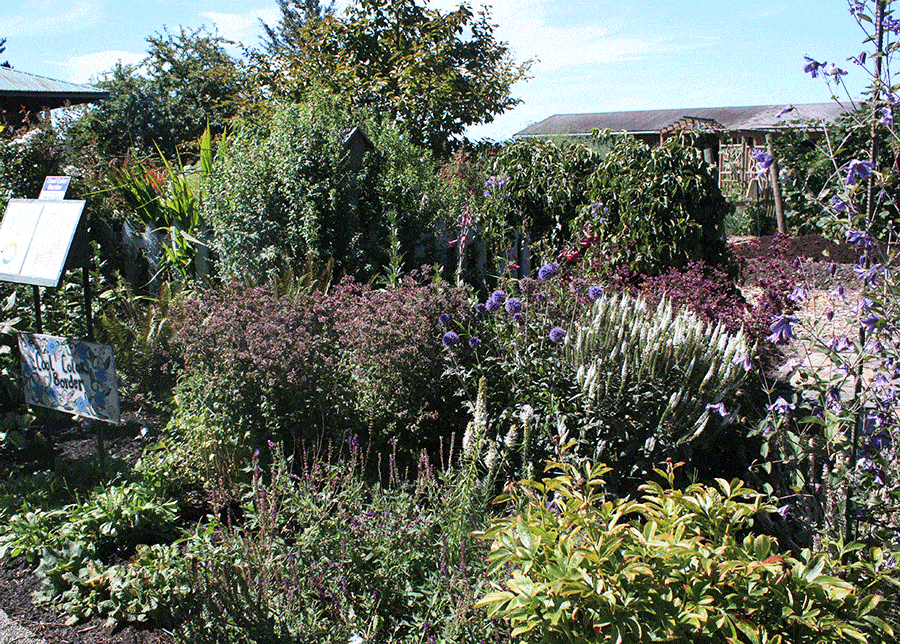 Cool Color Border Plant List
| # | Botanical Name | Cultivar | Common Name | Tree | Native |
| --- | --- | --- | --- | --- | --- |
| CC1 | Aconitum carmichaelii | 'Arendsil' | monkshood | | |
| CC2 | Ajuga reptans | | bugleweed | | |
| CC3 | Anchlys atriphylla | | vanilla leaf | | |
| CC4 | Aruncus aethusifolius | | dwarf goat's beard | | |
| CC5 | Anemone hupehensis | | pink Japanese anemone | | |
| CC6 | Astrantia major | 'Star of Billion' | masterwort | | |
| CC7 | Astilbe chinensis | | astilbe, false spirea | | |
| CC8 | Clematis | 'Multi Blue' | deciduous clematis | | |
| CC9 | Beesia deltophylla | | white buttercup | | |
| CC10 | Echinops bannaticus | 'Blue Glow' | blue glow thistle | | |
| CC11 | Galium adoratum | | sweet woodruff | | |
| CC12 | Athyrium | 'Pewter Lace' | painted fern | | |
| CC13 | Disporum cantoniense | 'Moonlight' | Chinese fairy bells | | |
| CC14 | Hibiscus syriacus | 'Minerva' | rose of Sharon | | |
| CC15 | Helleborus hybridus | 'Crystal Leaf' | hellebore | | |
| CC16 | Brunnera macrophylla | 'Jack Frost' | brunnera | | |
| CC17 | Polemonium caeruleum | | Jacob's ladder | | |
| CC18 | Leucanthemum | | Shasta daisy | | |
| CC19 | Liatris spicata | 'Blazing Star' | violet, white | | |
| CC20 | Nicotiana sylvestris | | tobacco plant | | * |
| CC21 | Nepeta | | catmint | | |
| CC22 | Paeonia | | peony (pale pink) | | * |
| CC23 | Origanum laevigatum | | Hopley's purple oregano | | * |
| CC24 | Polystichum munitum | | western sword fern | | * |
| CC25 | Primula | | purple primrose | | |
| CC26 | Pulmonaria officinalis | | lungwort | | |
| CC27 | Rhododendron | 'Unique' | | | |
| CC28 | Salvia farinaceae | 'Victoria Blue' | | | |
| CC29 | Penstemon hybrida | 'Midnight' | beardtongue | | |
| CC30 | Penstemon hybrida | 'Quartz Amethyst' | beardtongue | | |
| CC31 | Hosta | | plantain lily | | |
| CC32 | Stachys byzantina | | lamb's ears | | |
| CC33 | Styrax japonicus | 'Carillon' | Japanese snowbell tree | | |
| CC34 | Thalictrum | | meadow rue | | * |
| CC35 | Rosa | 'Nastarana' | shrub rose | | |
| CC36 | Salvia nemorosa | 'Snowhill' | meadow sage | | |
| CC37 | Tiarella cordifolia | 'Sugar and Spice' | foamflower | | |
| CC38 | Tiarella cordifolia | 'Jeepers Creepers' | foamflower | | |
| CC39 | Tiarella cordifolia | | native foamflower | | |
| CC40 | Trycyrtis | 'Samurai' | toad lily | | |
| CC41 | Veronica longifolia | 'First Lady' | tall speedwell | | |
| CC50 | Allium | 'Gladiator' | | | |
| CC51 | Polemonium caeruleum | | Jacob's ladder | | |
| CC52 | Polemonium reptans | 'Stairway to Heaven' | Jacob's ladder | | |
| CC53 | Veronica spicata | 'Giles Van Hees" | spike speedwell | | |
| CC54 | Zantedeschia | | calla lily | | |