Naturescape
Visit Naturescape to relax and reflect in a natural setting.  This informal garden room features a variety of meandering footpaths bordered by native and non-native plantings.  Stroll the paths and contemplate the variety of ecosystems represented by the sunny meadow, the pond, and the shady corner which was recently inhabited by a swarm of honey bees looking for a new home.
Be inspired to design your garden as a personal green space isolated from adjacent buildings and traffic by good hedges and the sound of water. Naturescape welcomes insects, pollinators, amphibians, reptiles, birds, small mammals, and even humans.
Characteristics:
- Quiet garden experience in natural surroundings
- Mix of native and non-native plant species chosen for resilience and low maintenance
- Informal structure to enhance the natural shape of our plants and trees
- An environment that supports pollinating birds and insects, as well as garden dwelling creatures, such as small mammals, amphibians, and reptiles.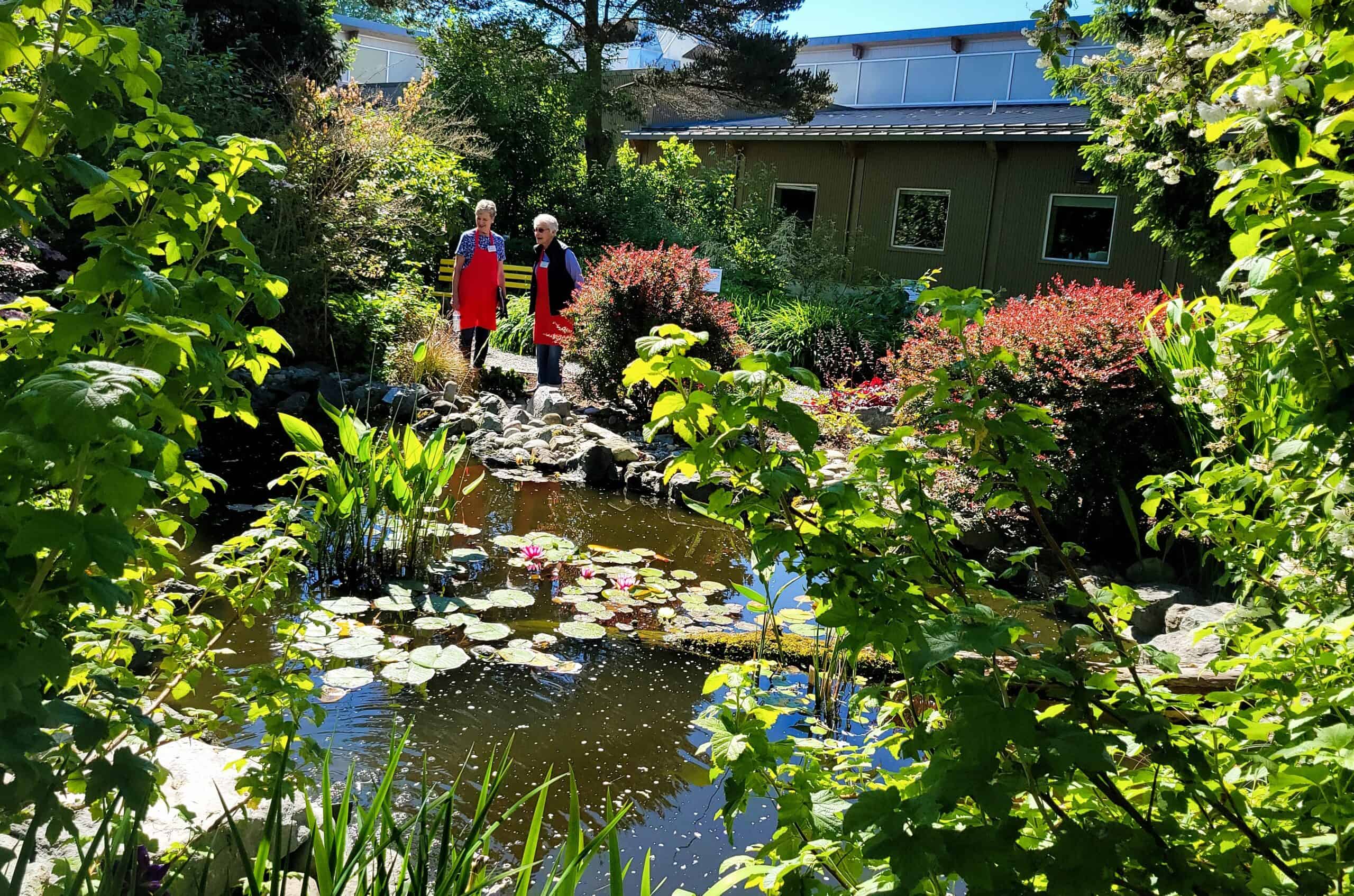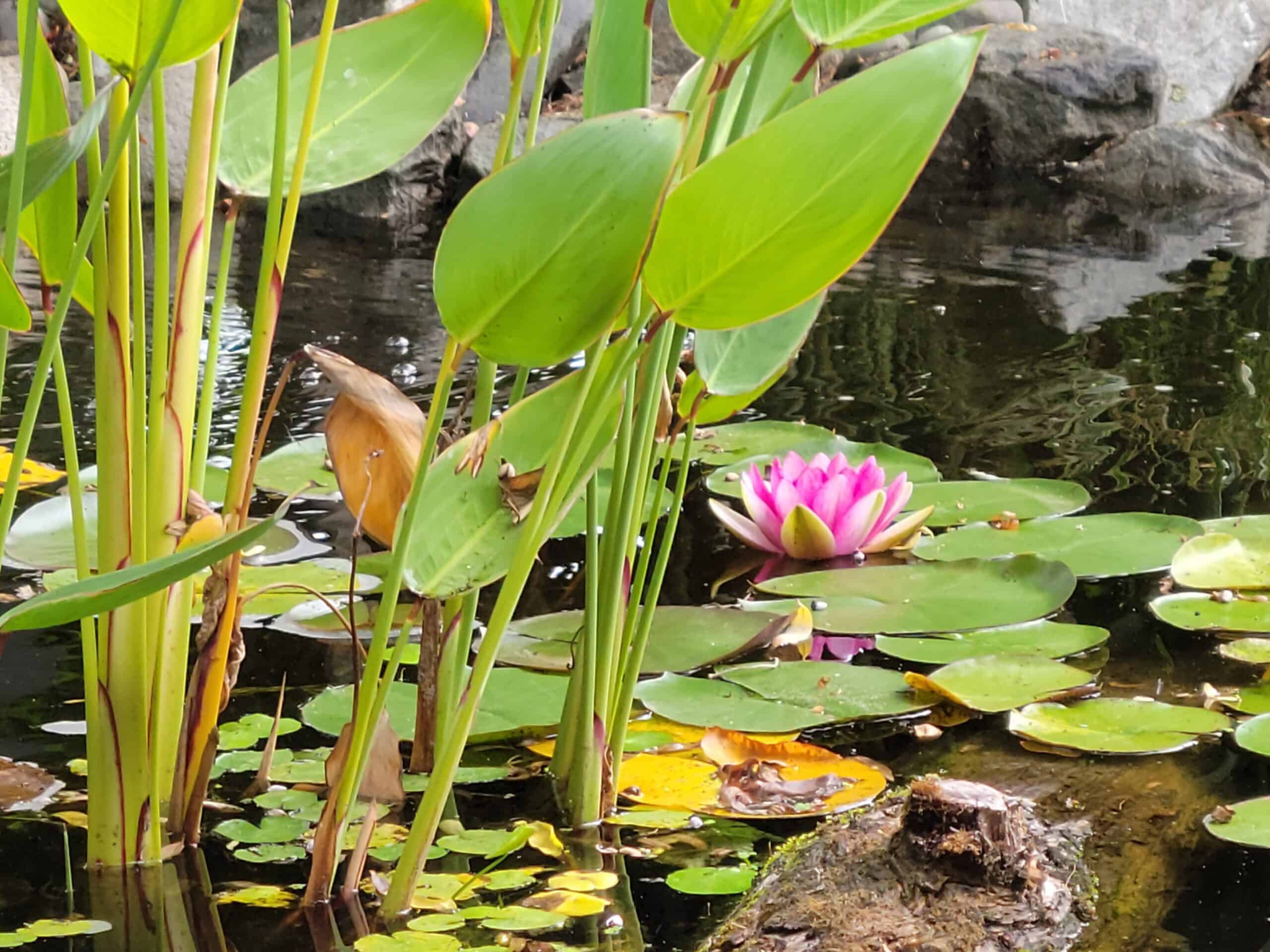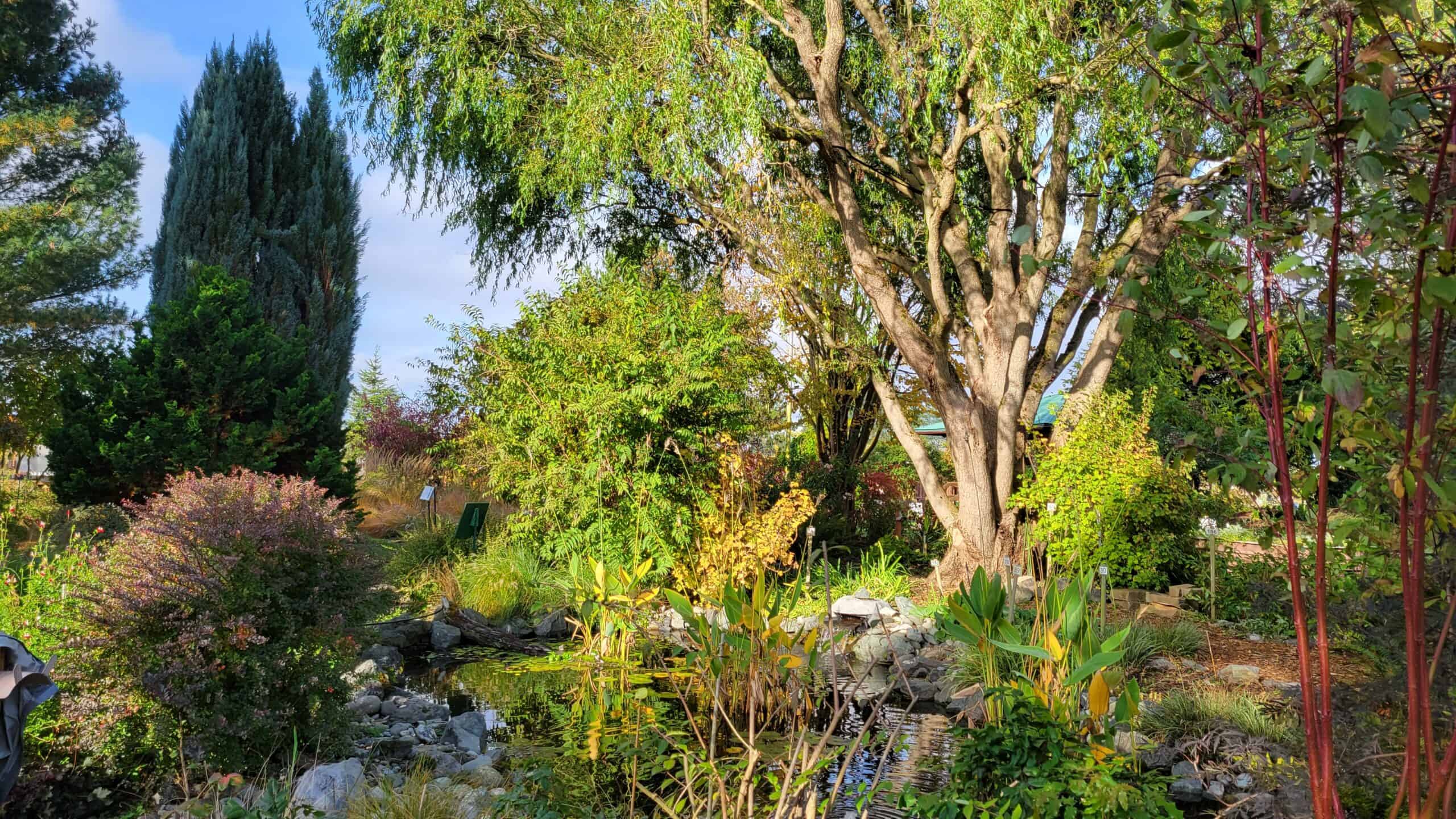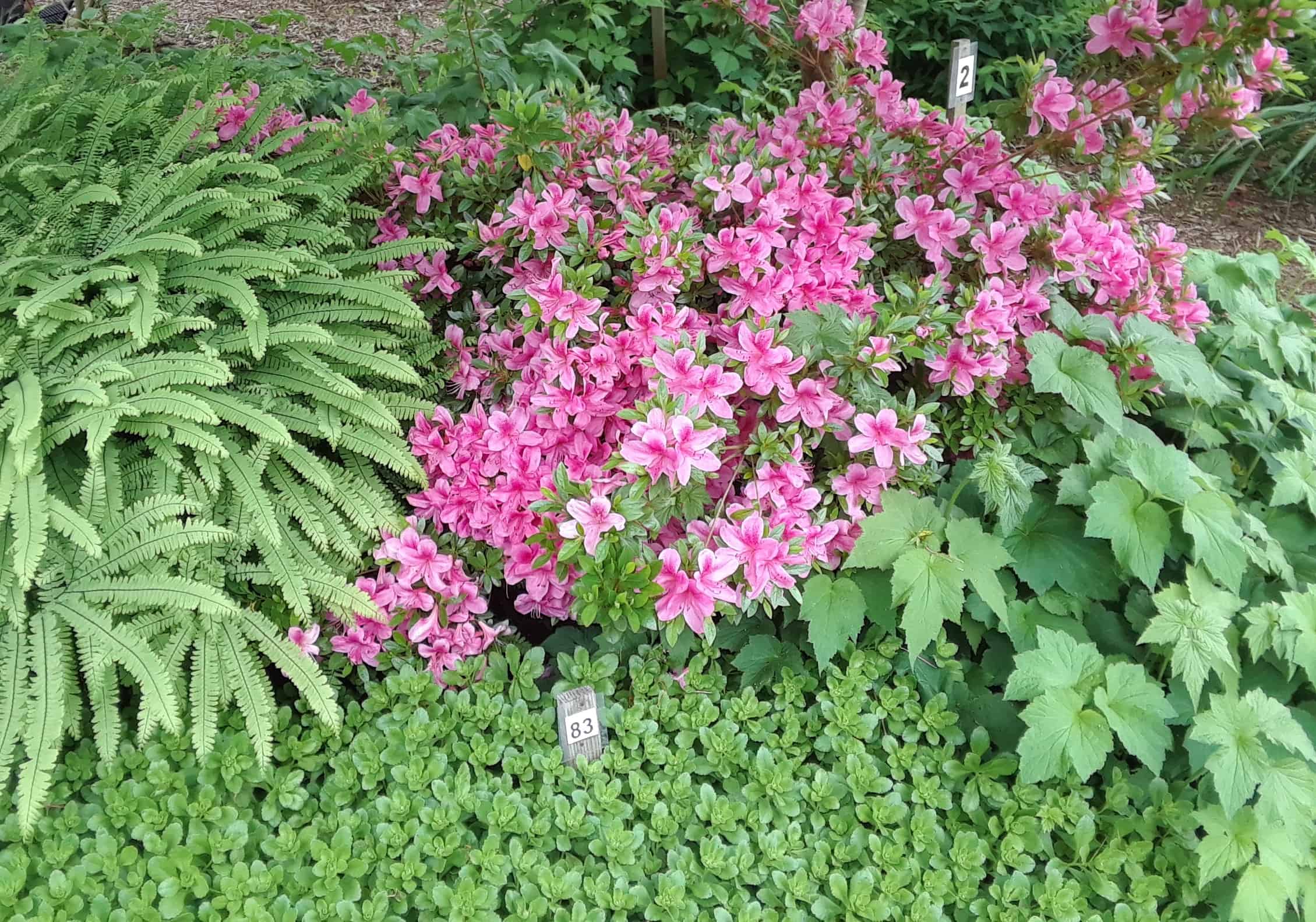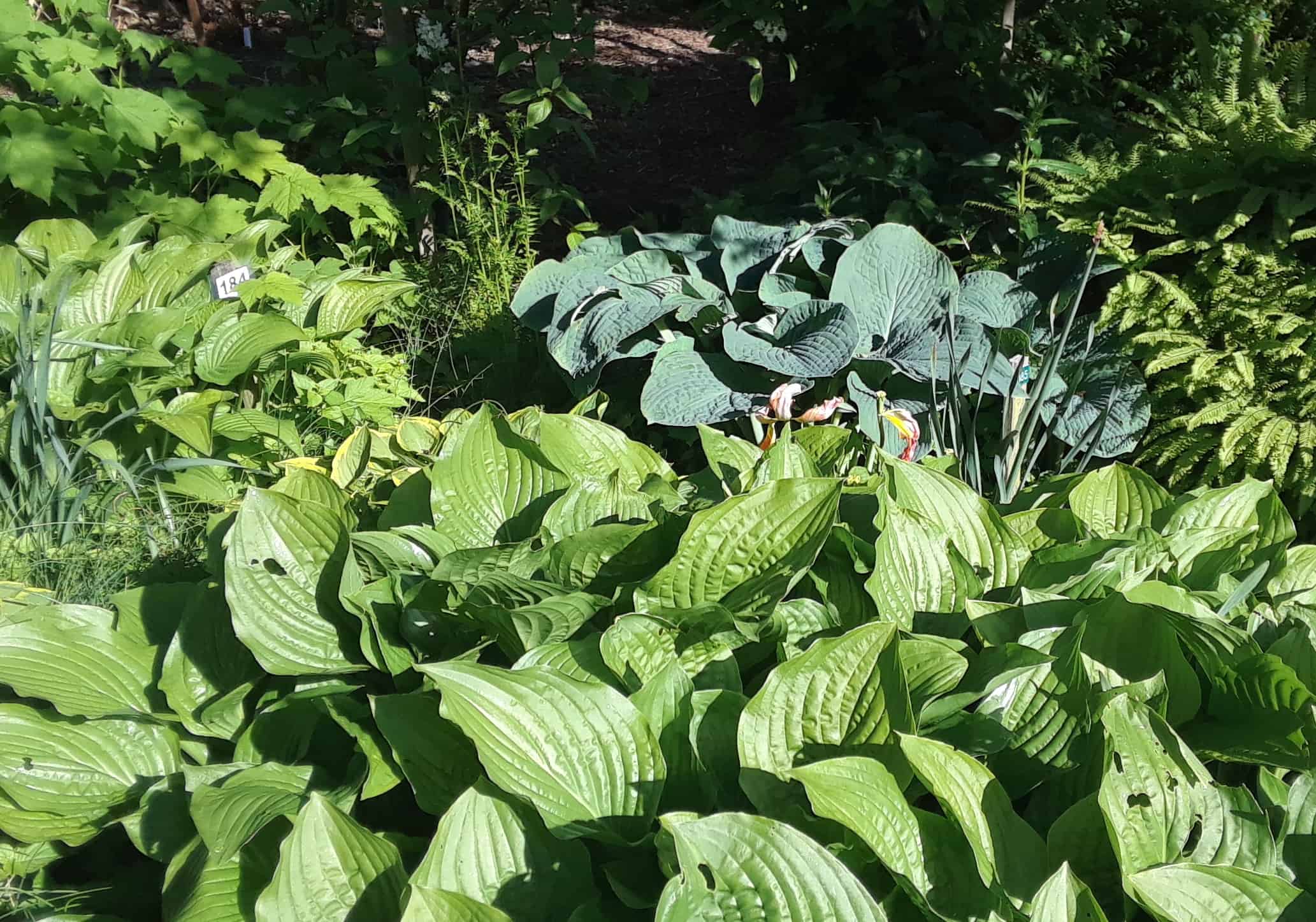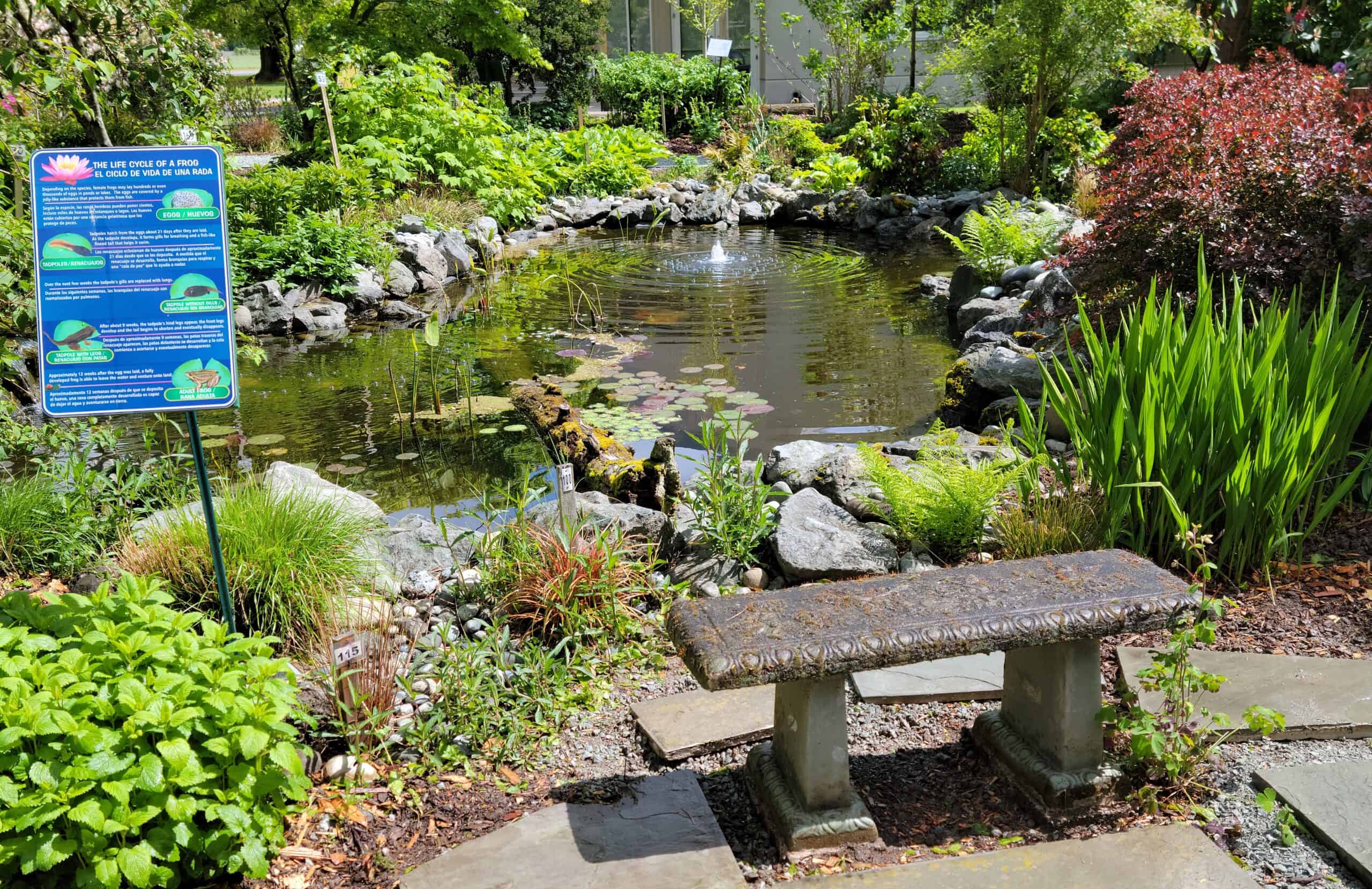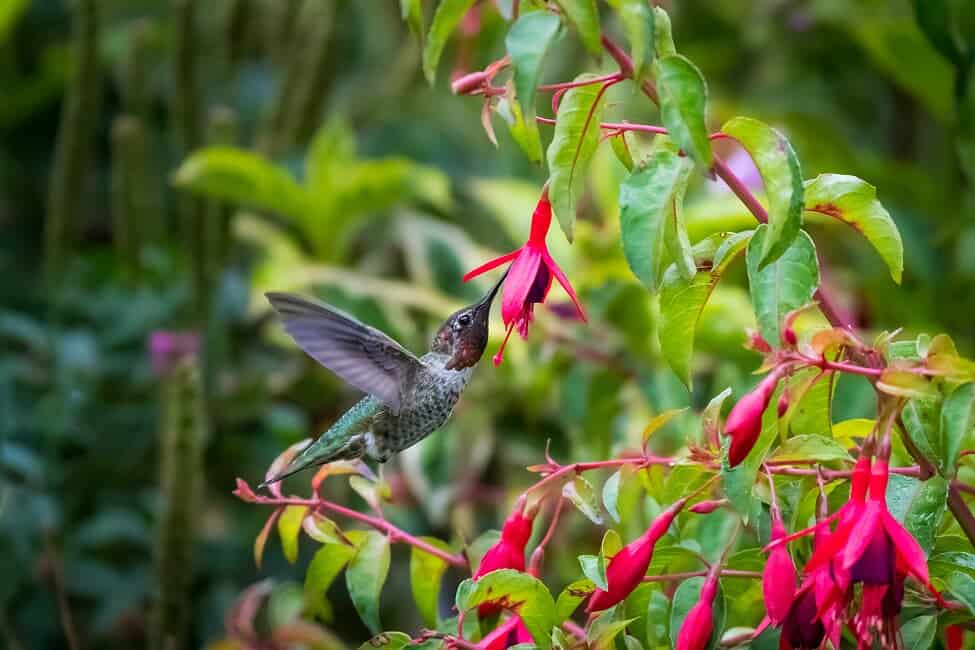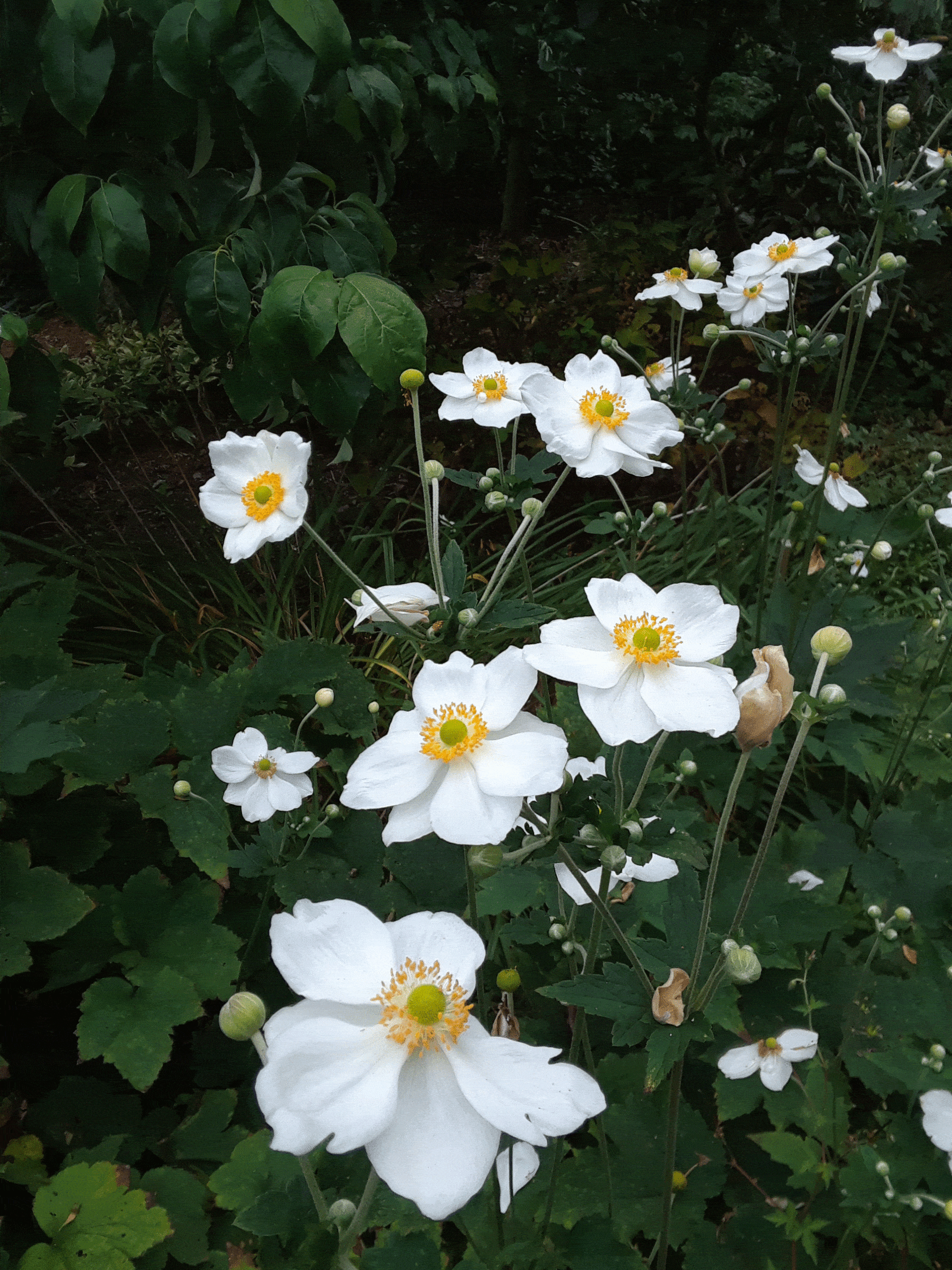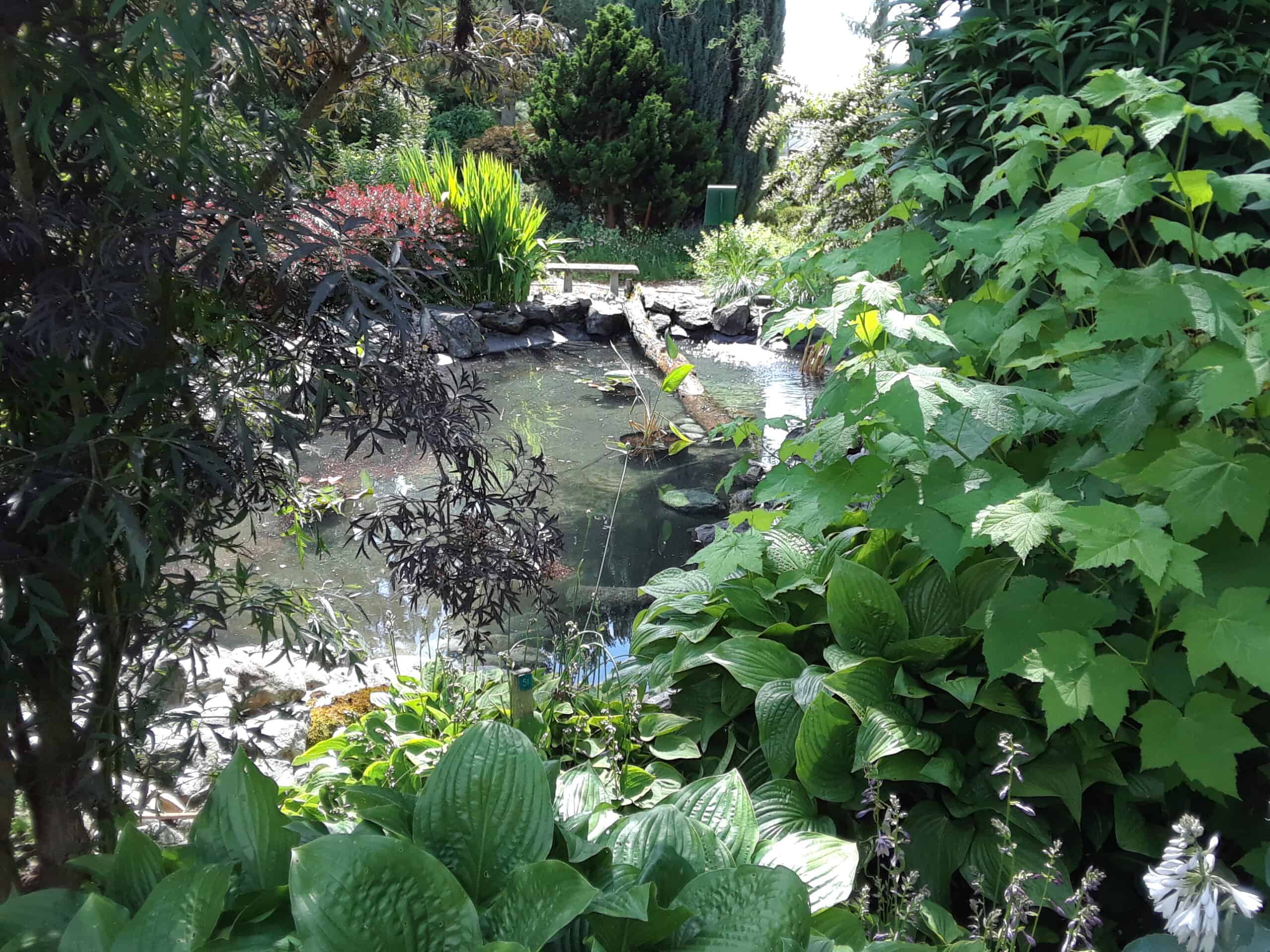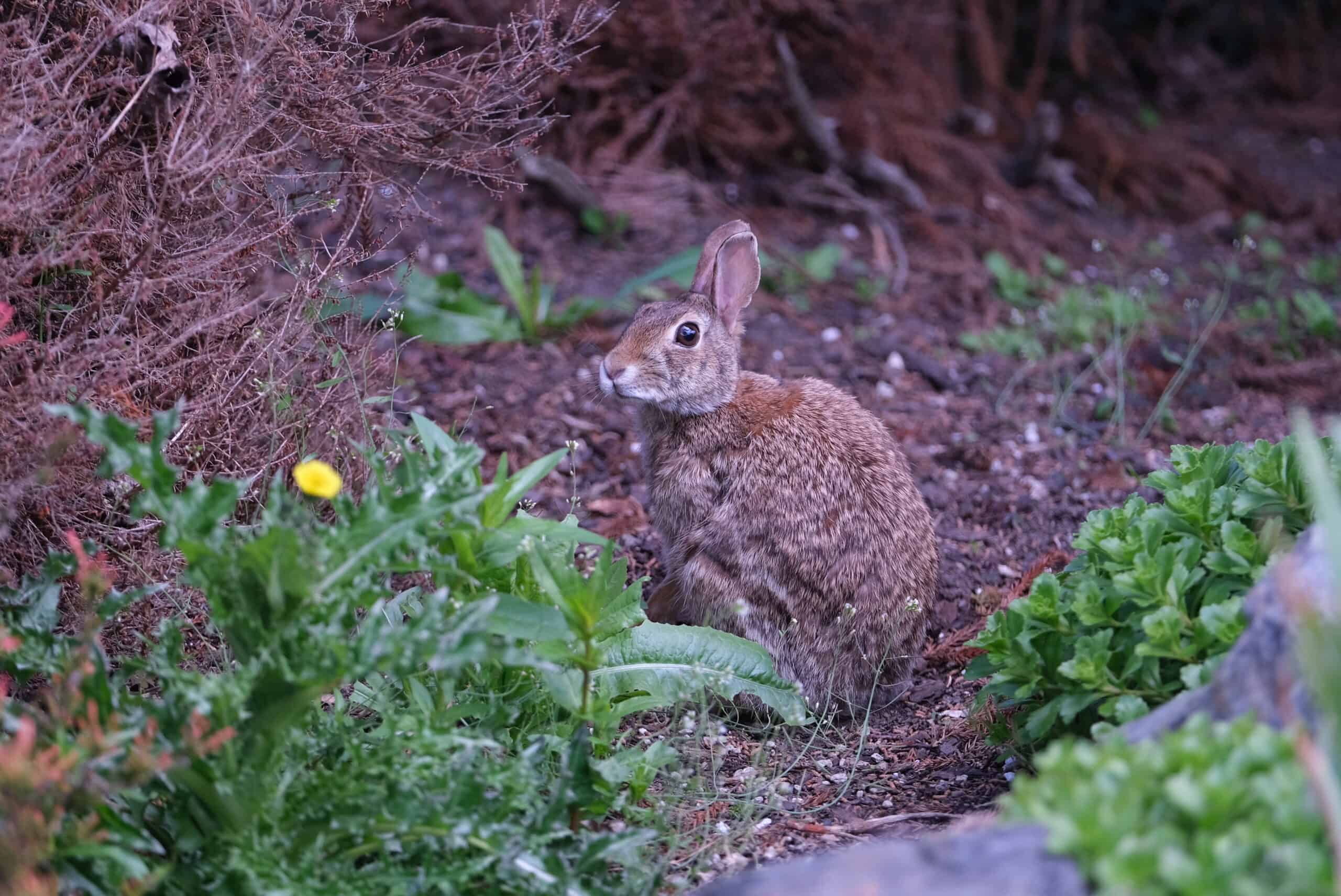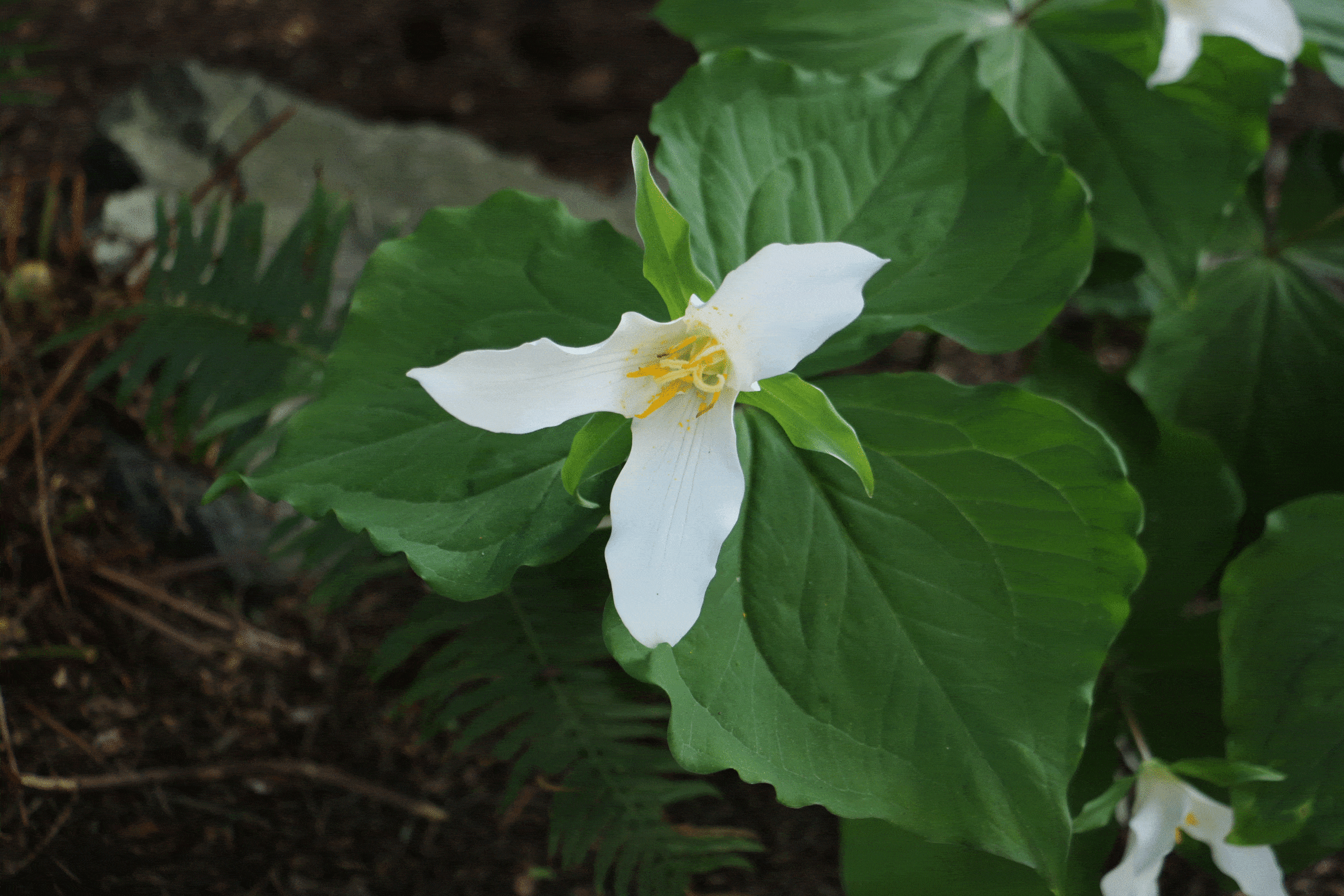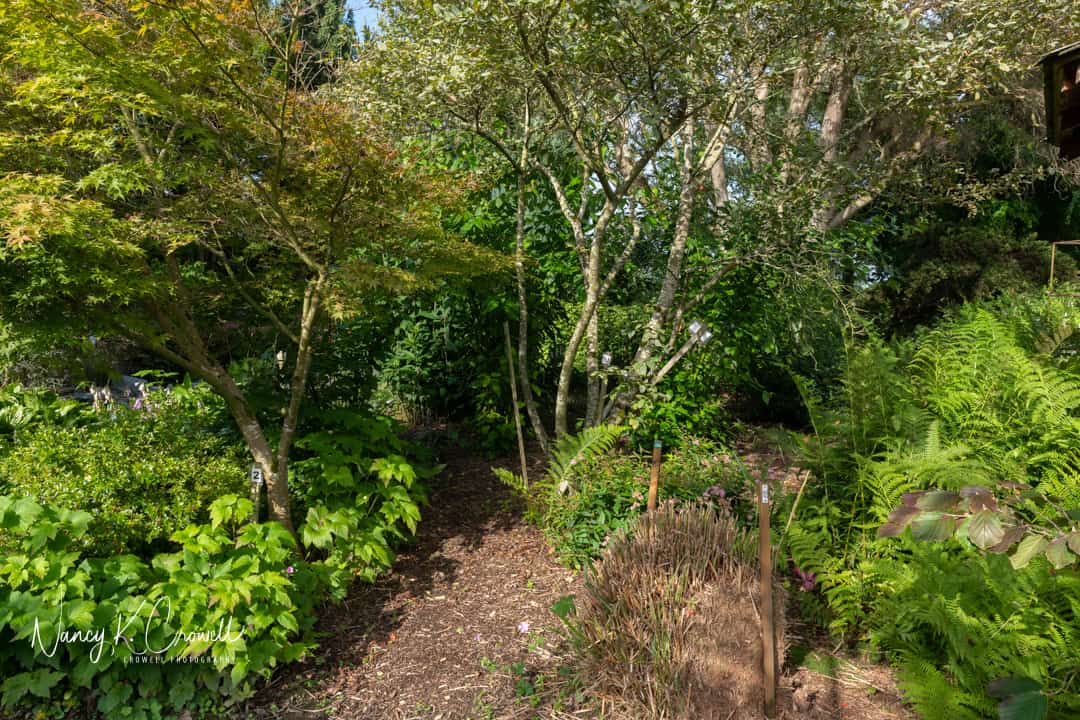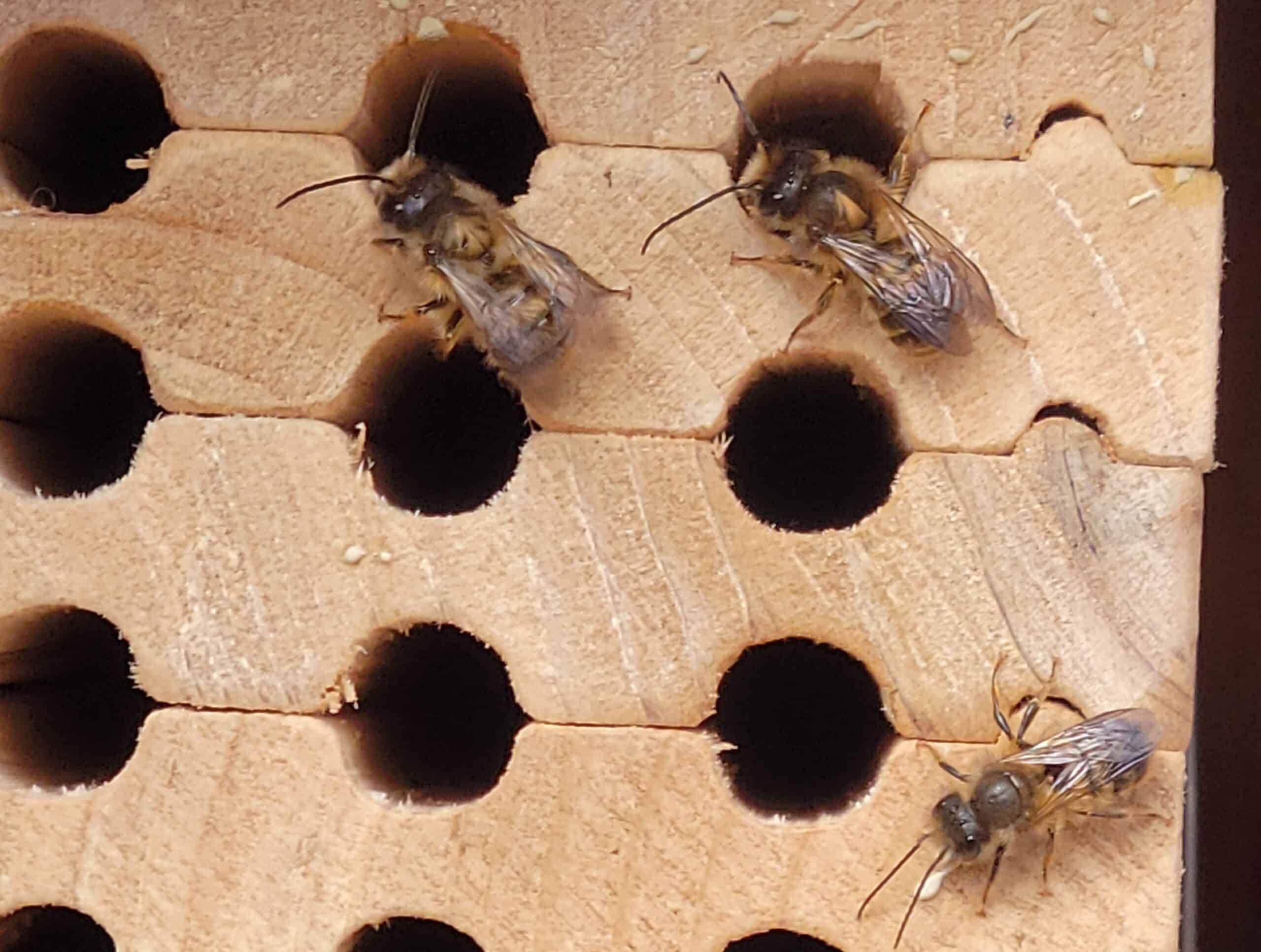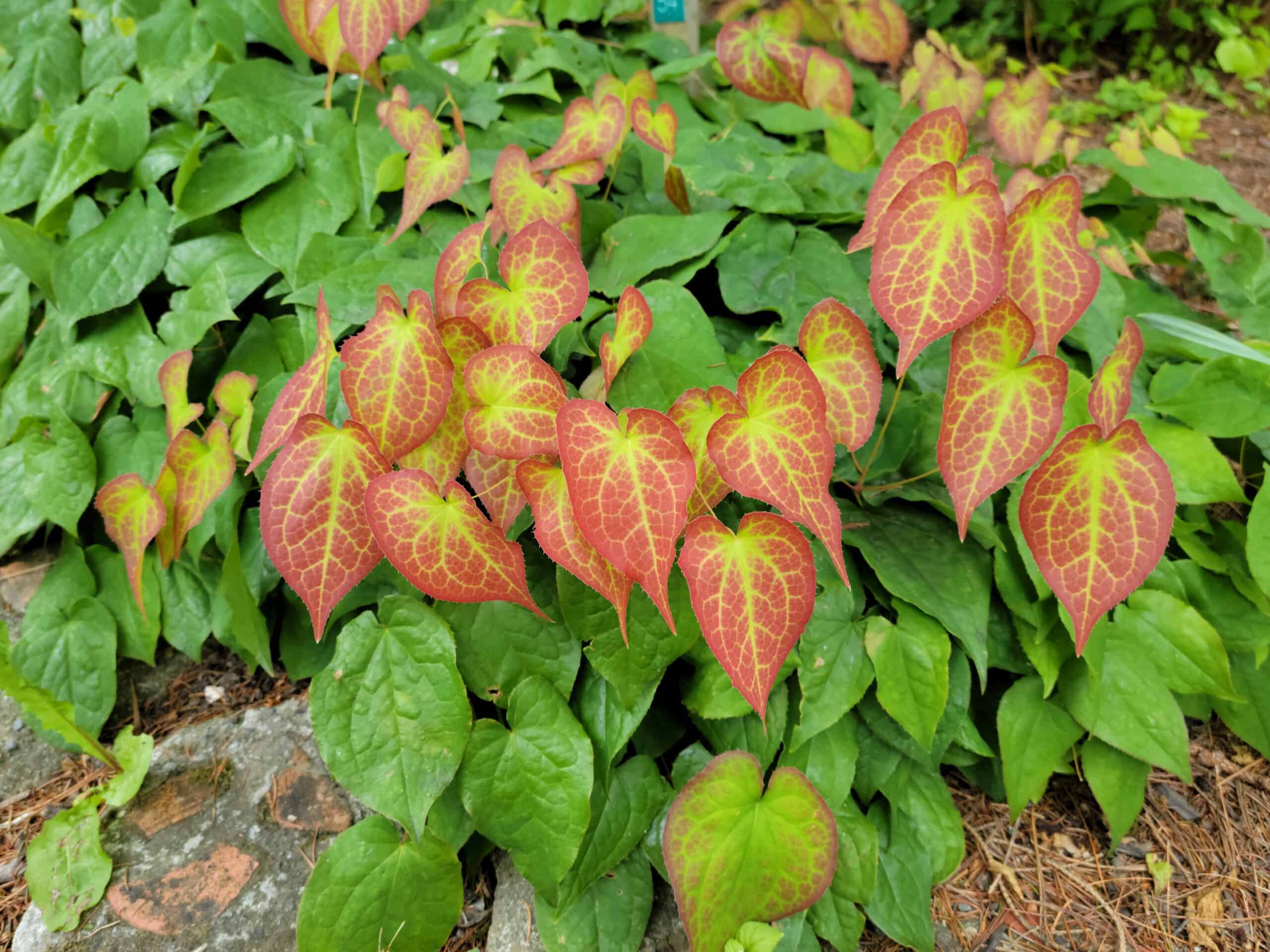 One of the many focal points of the Discovery Garden is the Naturescape Pond.  This garden space was crafted by the Skagit County Master Gardeners when the Discovery Garden was first planned in 1996.  The pond is 15X25' and is 34" deep in the center with a very gradual slope to the edge (bowl shaped).  It contains approximately 2000 gallons of water.
The Naturescape Pond supports the statewide WSU Master Gardener Priorities of Plant Biodiversity, Clean Water, and Nearby Nature.
The goal of the pond is to:
- Interest, inspire and educate the public
- Provide an example of a healthy pond ecosystem
- Be a focal point in the Discovery Garden
- Deliver a natural setting that can be used to support various educational opportunities
- Display an example of a tranquil backyard space that could be added to a backyard garden
Naturescape Garden Plant List
| Area | # | Botanical Name | Cultivar | Common Name | Tree | Native |
| --- | --- | --- | --- | --- | --- | --- |
| | 47 | Spirea bumalda | 'Anthony Waterer' | Japanese spirea, Japanese meadowsweet | | |
| Cypress Island | 1 | Iberis sempervirens | | evergreen candytuft | | |
| Living Fence | 1 | Miscanthus sinensis | 'Morning Light' | eulalia grass, variegated maiden grass | | |
| Living Fence | 2 | Rhododendron | 'Holden' | | | |
| Cypress Island | 3 | Sempervivum tectorum | | hen and chicks | | |
| Living Fence | 4 | Fargesia dracocephala | 'Red Dragon' | clumping bamboo | | |
| Cypress Island | 5 | Rhododendron | 'Ramapo' | | | |
| Living Fence | 5 | Origanum | | hardy marjoram | | |
| Cypress Island | 7 | Meconopsis cambrica | | Welsh poppy | | |
| Living Fence | 8 | Rhododendron | 'Cheer' | | | |
| Cypress Island | 9 | Chamaecyparis obtusa | 'Nana Gracilis' | hinoki cypress | * | |
| Living Fence | 9 | Clethra alnifolia | 'Paniculata' | summersweet, sweet pepper bush | | |
| Living Fence | 10 | Geranium sanguineum | 'Album' | white cranesbill | | |
| Living Fence | 11 | Pennisetum alopecuroides | 'Moudry' | black fountain grass | | |
| Living Fence | 12 | Amelanchier canadensis | | eastern serviceberry, Canadian serviceberry | * | |
| Cypress Island | 13 | Chamaecyparis lawsoniana | | lawson false cypress | * | * |
| Living Fence | 13 | Carex testacea | | New Zealand sedge | | |
| Living Fence | 14 | Rhododendron | 'Vera' | | | |
| Cypress Island | 15 | Spirea japonica | 'Magic Carpet' | Japanese spirea | | |
| Living Fence | 15 | Hesperantha coccinea | | crimson flag, river lily | | |
| Living Fence | 16 | Salvia microphylla | 'Hot lips' | salvia | | |
| Cypress Island | 17 | Ophiopogon formosanum | | Taiwan mondo grass | | |
| Living Fence | 17 | Philadelphus | 'Buckley's Quill' | double-flowered mock orange | * | |
| Living Fence | 18 | Dicentra formosa | | Pacific bleeding heart | | |
| Cypress Island | 19 | Vaccinium | | blueberry | | |
| Living Fence | 19 | Ceanothus gloriosus | | Point Reyes ceanothus, California lilac | | * |
| Living Fence | 20 | Anemone hupehensis | | Japanese anemone | | |
| Living Fence | 21 | Berberis thunbergii | 'Crimson Pygmy' | dwarf barberry | | |
| The Corner | 21 | Berberis thunbergii | 'Crimson Pygmy' | dwarf barberry | | |
| Living Fence | 22 | Polygonatum biflorum | | Solomon's seal | | |
| Cypress Island | 23 | Hylotelephium spectabile | 'Autumn Joy', 'Herbstfreude' | stonecrop | | |
| Living Fence | 23 | Ginkgo biloba | | ginkgo, maidenhair tree | * | |
| Cypress Island | 25 | Erica carnea | 'Springwood White' | winter heath | | |
| Living Fence | 25 | Phlox | | | | |
| Cypress Island | 27 | Rhododendron roxieanum | | high altitude Asian native rhododendron | | |
| Living Fence | 28 | Betula papyrifera | | paper birch | | * |
| Cypress Island | 29 | Kniphofia uvaria | | red-hot poker, torch lily | | |
| Living Fence | 29 | Carex oshimensis | 'Evergold' | variegated sedge | | |
| Living Fence | 30 | Cotinus coggygria | 'Purpureus' | smoke tree | | |
| Cypress Island | 31 | Acer palmatum | 'Sango-Kaku' | Japanese coral bark maple | * | |
| Living Fence | 32 | Weigela rosea, (syn. W. florida) | | pink weigela | | |
| Cypress Island | 33 | Ophiopogon planiscapus | 'Nigrescens' | black mondo grass | | |
| Living Fence | 34 | Cornus sericea (syn. C. stolonifera) | 'Flaviramea' | golden twig dogwood | | |
| Cypress Island | 35 | Rhododendron | 'Ramapo' | | | |
| The Corner | 35 | Cornus florida | 'Rutgan' | stellar pink flowering dogwood | * | |
| Living Fence | 36 | Lavatera | | annual mallow, rose mallow | | |
| The Corner | 36 | Hemerocallis lilioasphodelus (syn. H. flava) | | lemon daylily | | |
| Cypress Island | 37 | Helleborus orientalis | 'Royal Heritage' | lenten rose | | |
| The Corner | 37 | Cornus sericea (syn. C. stolonifera) | 'Flaviramea' | golden twig dogwood | | |
| Cypress Island | 39 | Saxifraga rosacea | | mossy saxifrage | | |
| The Corner | 39 | Penstemon centranthifolius | | scarlet bugler | | |
| The Corner | 40 | Hypericum palatum | 'Hidcote' | St. John's wort | | |
| The Corner | 42 | Garrya eliptica | | silk tassel bush | | * |
| The Corner | 43 | Smilacina racemosa | | false Solomon's seal | | * |
| Cypress Island | 45 | Cyclamen | | hardy cyclamen | | |
| The Corner | 45 | Picea omorika | | Serbian spruce | * | |
| The Corner | 46 | Cornus stolonifera | | red osier dogwood | | * |
| Cypress Island | 47 | Allium cernuum | | nodding onion | | * |
| The Corner | 47 | Rhododendron | 'Taurus' | | | |
| The Corner | 48 | unknown | | | | |
| Cypress Island | 49 | Hylotelephium (syn. Sedum) erythrostictum | 'Frosty Morn' | | | |
| The Corner | 50 | Picea abies | 'Elegans' | dwarf Norway birds-nest spruce | | |
| The Corner | 53 | Brunnera | | | | |
| The Corner | 53 | Rhododendron ponticum | 'Blue Peter' | | | |
| The Corner | 55 | Lonicera involucrata | | twinberry, bush honeysuckle | | |
| Hedgerow | 100 | Picea mariana | 'Wellspire' | black spruce | * | |
| Hedgerow | 101 | Lilium pardalinum | | leopard lily | | * |
| Hedgerow | 102 | Epimedium grandiflorum | | bishop's hat | | |
| Hedgerow | 104 | Cornus canadensis | | bunchberry | | * |
| Hedgerow | 105 | Gaultheria shallon | | salal | | * |
| Hedgerow | 106 | Leycesteria formosa | | Himalayan honeysuckle | | |
| Hedgerow | 108 | Carex | | sedge | | |
| Hedgerow | 109 | Aquilegia formosa | | western columbine, red columbine | | * |
| Hedgerow | 111 | Carpinus betulus | | European hornbeam | * | |
| Hedgerow | 112 | Zantedeschia aethiopica | 'Crowborough' | white calla, arum lily | | |
| Hedgerow | 115 | Hosta fortunei | 'Fortunei Albopicta' | spring-gold hosta, white-painted plantain lily | | |
| Hedgerow | 117 | Hylotelephium (syn. Sedum) | | | | |
| Hedgerow | 119 | Weigela florida | 'Bristol Ruby' | variegated weigela | | |
| Hedgerow | 120 | Picea mariana | 'Wellspire' | black spruce | * | |
| Hedgerow | 121 | Bergenia cordifolia | 'Winter Glow' | pig squeak | | |
| Hedgerow | 122 | Hosta sieboldiana | 'Elegans' | plantain lily | | |
| Hedgerow | 124 | Trillium ovatum | | Pacific trillium | | * |
| Hedgerow | 126 | Trientalis borealis | | native starflower | | * |
| Hedgerow | 127 | Helleborus | | hellebore | | |
| Hedgerow | 128 | Ribes sanguineum | | red flowering currant | | * |
| Hedgerow | 130 | Oemleria cerasiformis | | Indian plum, osoberry | | * |
| Hedgerow | 132 | Hydrangea macrophylla | | lacecap hydrangea | | |
| Hedgerow | 134 | Viburnum davidii | | David viburnum | | |
| Hedgerow | 136 | Pinus heldreichii (syn. Pinus leucodermis) | | Bosnian pine | * | |
| Hedgerow | 138 | Rodgersia pinnata | 'Superba' | Roger's flower | | |
| Hedgerow | 140 | Geranium nodosum | | cranesbill | | |
| Hedgerow | 142 | Hosta sieboldiana | 'Elegans' | plantain lily | | |
| Hedgerow | 145 | Hylotelephium spectabile | 'Autumn Joy', 'Herbstfreude' | stonecrop | | |
| Hedgerow | 147 | Rhododendron pachysanthum | | | | |
| Hedgerow | 149 | Crocosmia | | montbretia | | |
| Hedgerow | 151 | Cornus kousa | | kousa dogwood | * | |
| Hedgerow | 153 | Drynaria filix-mas | | buckler fern, male fern | | * |
| Hedgerow | 155 | Rhododendron bathyphylum | | | | |
| Hedgerow | 158 | Pinus heldreichii (syn. Pinus leucodermis) | | Bosnian pine | * | |
| Hedgerow | 159 | Fuchsia | | non-prostrate hardy fushia | | |
| Hedgerow | 161 | Acer circinatum | | vine maple | * | * |
| Hedgerow | 163 | Rhododendron occidentale | | western azalea | | * |
| Hedgerow | 165 | Fuchsia | | regina, hardy prostrate fuchsia | | |
| Hedgerow | 167 | Pinus strobus | 'Fastiagata' | columnar eastern white pine | * | |
| Hedgerow | 170 | Scilla sibirica | | wood hyacinth | | |
| Hedgerow | 172 | Rodgersia | | | | |
| Hedgerow | 174 | Vaccinium ovatum | | evergreen huckleberry | | * |
| Hedgerow | 177 | Corylus cornuta | | western hazelnut, beaked hazelnut, California hazelnut | | * |
| Hedgerow | 179 | Taxus | | anglojap yew | | |
| Cypress Island | NAL020 | Allium azureum | | blue globe onion | | |
| Cypress Island | NAL022 | Galium odoratum | | sweet woodruff | | * |
| Cypress Island | NAL058 | Geranium phaeum | 'Margaret Wilson' | dusky cranesbill | | |
| Pond East | NEP002 | Acer palmatum | | Japanese maple | * | |
| Pond East | NEP003 | Adiantum aleuticum | | western maidenhair fern | | * |
| Pond East | NEP006 | Amelanchier canadensis | | eastern serviceberry, Canadian serviceberry | * | |
| Pond East | NEP043 | Cornus stolonifera | | red osier dogwood | | * |
| Pond East | NEP051 | Hosta | 'Golden Tiara' | plantain lily | | |
| Pond East | NEP083 | Phedimus kamtschaticus (syn. Sedum kamchaticum) | | creeping stonecrop | | |
| Pond East | NEP107 | Sambucus nigra | 'Eva' | European elderberry | * | |
| Pond East | NEP113 | Hamamelis x intermedia | 'Diane' | witch hazel | | |
| Pond East | NEP132 | Dryopteris erythrosora | | Autumn fern | | |
| Pond East | NEP133 | Rhododendron | 'Gaiety' | azalea | | |
| Pond East | NEP183 | Hosta | 'Royal Standard' | plantain lily | | |
| Pond East | NEP184 | Hosta fortunei | 'Fortunei Aureomarginata' | plantain lily | | |
| Pond East | NEP185 | Hosta sieboldiana | 'Elegans' | plantain lily | | |
| Pond East | NEP186 | Anemone blanda | | Grecian windflower | | |
| Pond East | NEP200 | Pteridium filix-femina | | lady fern | | * |
| Pond Northeast Entry | NNE016 | Aruncus dioicus | | goatsbeard | | * |
| Pond Northeast Entry | NNE024 | Calamagrostis | 'Karl Foerster' | feather reed grass | | |
| Pond Northeast Entry | NNE056 | Lamprocapnos (syn. Dicentra) cucullaria | | Dutchman's breeches, bleeding heart | | * |
| Pond Northeast Entry | NNE127 | Cercis canadensis | | eastern redbud | * | |
| Pond Northeast Entry | NNE138 | Rhododendron | 'Roseum Elegans' | | | |
| Pond Northeast Entry | NNE144 | Erica carnea | | pink spring/winter heath | | |
| Pond North (Back) | NNP030 | Carex buchananii | | leatherleaf sedge | | |
| Pond North (Back) | NNP043 | Cornus stolonifera | | red osier dogwood | | * |
| Pond North (Back) | NNP044 | Cornus sericea | 'Flaviramea' | yellow twig dogwood | | |
| Pond North (Back) | NNP059 | Eutrochium fistulosum | | Joe-Pye weed | | |
| Pond North (Back) | NNP065 | Iris sibirica | | Siberian iris | | |
| Pond North (Back) | NNP072 | Phlomis fruticosa | | Jerusalem sage | | |
| Pond North (Back) | NNP149 | Ribes indecorum | | white-flowering currant | | |
| Pond North (Back) | NNP150 | Ribes sanguineum | | red-flowering currant | | * |
| Pond North (Back) | NNP154 | Salix matsudana | 'Tortuosa' | corkscrew willow | * | |
| Pond North (Back) | NNP156 | Lonicera involucrata | | twinberry, bush honeysuckle | | * |
| Corner | NNP174 | Weigela florida | 'Variegata' | variegated weigela | | |
| Pond | none | Nymphaea | | waterlily (pale yellow turns to pink) | | |
| Pond | none | Nymphaea | | variegated water lily | | |
| Pond | none | Nymphaea | | water lily (red) | | |
| Pond | none | Nymphaea | | water lily | | |
| Pond | none | Pontederia cordata | | pickeral rush | | |
| Pond | none | Thalia dealbata | | powdery alligator-flag | | |
| Pond East | none | Dryopteris erythrosora | | autumn fern | | |
| Pond East | none | Physocarpus opulifolius | 'Seward' | summer wine ninebark | | |
| Pond North (Back) | none | Quercus garryana | | Garry oak | | * |
| Pond West | none | Melissa officinalis | | lemon balm | | |
| The Corner | NSE010 | Brunnera macrophylla | | | | |
| Pond East | NSE014 | Brunnera macrophylla | 'Jack Frost' | Siberian bugloss | | |
| The Corner | NSE015 | Rhododendron thomsonii | | | | |
| The Corner | NSE023 | Hemerocallis fulva | 'Stella de Oro' | daylily | | |
| The Corner | NSE034 | Carex oshimensis | 'Evergold' | golden Japanese sedge | | |
| The Corner | NSE045 | Cornus sericea (syn. C. stolonifera) | 'Silver and Gold' | yellow twig dogwood, variegated | | |
| The Corner | NSE048 | Crocosmia | | montbretia | | |
| The Corner | NSE049 | Brunnera macrophylla | | Siberian bugloss | | |
| The Corner | NSE064 | Fuchsia magellanica | 'Riccartonii' | hardy fuchsia | | |
| The Corner | NSE078 | Hemerocallis fulva | | orange daylily, tawny daylily | | |
| The Corner | NSE080 | Holodiscus discolor | | ocean spray | | * |
| The Corner | NSE082 | Hydrangea macrophylla | | hydrangea | | |
| The Corner | NSE087 | Cornus florida | 'Rutgan' | stellar pink dogwood | * | |
| The Corner | NSE089 | Drynaria filix-mas | | buckler fern, male fern | | * |
| The Corner | NSE097 | Hemerocallis | 'Pink Damask' | daylily | | |
| The Corner | NSE102 | Mahonia aquifolium | | tall Oregon grape | | * |
| The Corner | NSE111 | Oemleria cerasiformis | | Indian plum, osoberry | | * |
| The Corner | NSE119 | conver | 'Purple Prince' | cape fuchsia | | |
| The Corner | NSE123 | Pinus contorta | | shore pine | * | * |
| The Corner | NSE130 | Polystichum munitum | | western swordfern | | * |
| The Corner | NSE145 | Hamamelis | | witch hazel | | |
| The Corner | NSE153 | Veronica repens | | creeping veronica, creeping speedwell | | |
| The Corner | NSE163 | Asplenium (Phyllitis) scolopendrium | | wavyleaf hart's tongue fern | | |
| The Corner | NSE204 | Polystichum polyblepharum | | tassel fern | | |
| The Corner | NSE205 | Adiantum venustum | | Himalayan maidenhair fern | | |
| The Corner | NSE206 | Osmunda regalis | 'Purpurascens' | purple-stem royal fern | | |
| The Corner | NSE207 | Polystichum aff. Neolobatum | | long-eared fern, shiny holly fern | | |
| The Corner | NSE208 | Polypodum scouleri | | Scouler's native hanging fern | | |
| Pond South (Front) | NSP019 | Berberis thunbergii | 'Crimson Pygmy' | dwarf barberry | | |
| Pond South (Front) | NSP031 | Heuchera | | coral bells | | |
| Pond East | NSP068 | Geranium pratense | 'Brookside' | purple hardy geranium | | |
| Pond South (Front) | NSP090 | Kolkwitzia amabilis | | beautybush | | |
| Pond South (Front) | NSP093 | Pieris japonica | 'Valley Rose' | valley rose pieris | | |
| Pond South (Front) | NSP100 | Uncinia rubra | 'Red Hook' | varigated sedge | | |
| Pond South (Front) | NSP103 | Mahonia repens | | creeping Oregon grape | | * |
| Pond South (Front) | NSP114 | Pennisetum alopecuroides | 'Moudry' | black fountain grass | | |
| Pond South (Front) | NSP115 | Carex buchananii | | New Zealand sedge | | |
| Pond South (Front) | NSP178 | Crocosmia masoniorum | 'Lucifer' | montbretia | | |
| Pond South (Front) | NSP183 | Hosta | 'Royal Standard' | plantain lily | | |
| Pond West | NWP025 | Origanum vulgare | | oregano | | |
| Pond West | NWP027 | Primula juliae | 'Sue Jervis' | primrose | | |
| Pond West | NWP035 | Ceanothus thyrsiflorus | 'Blue Blossom' | California lilac | | |
| Pond West | NWP036 | Centranthus ruber | | red valerian, Jupiter's beard | | |
| Pond Northeast Entry | NWP050 | Deutzia scabra | 'Pride of Rochester' | fuzzy deutzia | | |
| Pond West | NWP063 | Fuchsia magellanica | 'Alba' | hardy fuchsia | | |
| Pond West | NWP071 | Gunnera tinctoria | | chilean rhubarb, dinosaur food | | |
| Pond West | NWP077 | Helleborus orientalis | 'Royal Heritage' | lenten rose | | |
| Pond West | NWP099 | Koelreuteria paniculata | | golden rain tree | * | |
| Pond West | NWP100 | Uncinia rubra | 'Belinda's Find' | red hook sedge | | |
| Pond West | NWP115 | Carex buchananii | | New Zealand sedge | | |
| Pond West | NWP130 | Polystichum munitum | | western swordfern | | * |
| Pond West | NWP131 | Potentilla | | cinquefoil | | |
| Pond West | NWP147 | Rhododendron occidentale | 'Irene Koster' | deciduous western azalea | | * |
| Pond West | NWP150 | Ribes sanguineum | | red-flowering currant | | * |
| Pond West | NWP180 | Allium schoenoprasum | | chive | | |