Pollinator Garden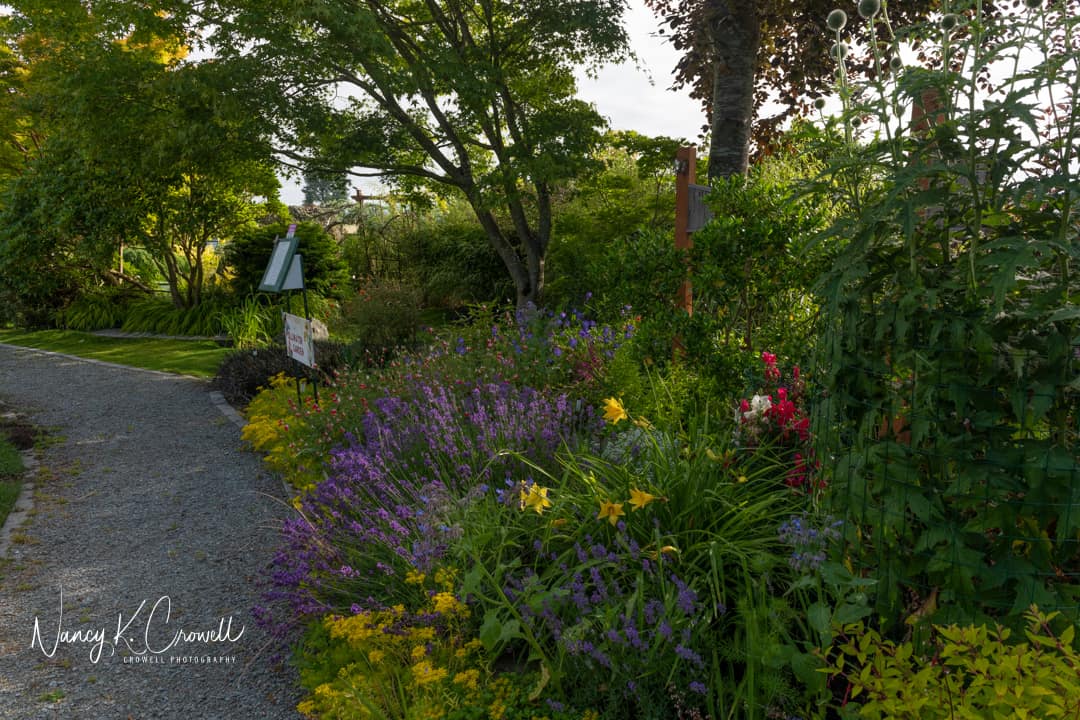 What is pollination?
Pollination is the means by which plants produce seeds.  It occurs when pollen grains from a flower's male parts (anthers) are transported to the female part (stigma) of the same species.  Most plants cannot set seed without being pollinated. While wind and water can also move pollen, most plants depend on pollinators to transport pollen.
Plants produce scents and/or nectar to attract pollinators.  As pollinators collect nectar from one flower, some of the pollen grains attach to their legs, abdomen, and/or other body parts.  When the pollinator moves to the next flower, the pollen grains are likewise transported, some of which are then deposited in that flower.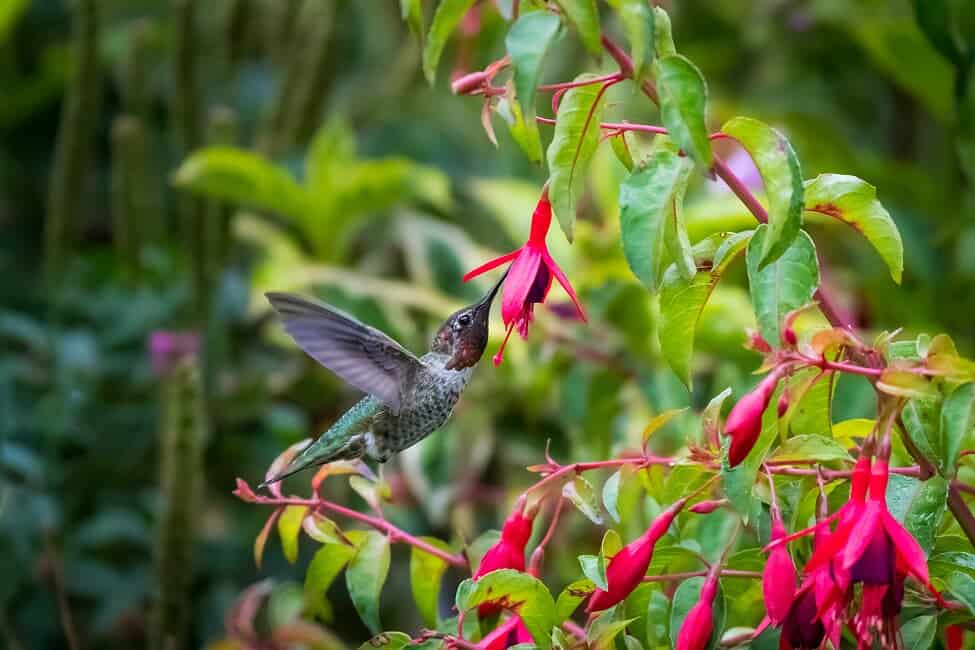 Who are our pollinators?
Pollinators are more than bees, butterflies and birds.  They are all of the animals that move pollen between flowers, including moths, wasps, flies, beetles, and some bats.
What Can you Do for Pollinators?
- Provide a wildflower-rich habitat in a sunny spot
- Use native plants which are often the best sources of nectar and pollen for native pollinators and can serve also as larval host plants
Choose a variety of colors and shapes to attract a range of pollinators
Choose plants with bloom times from early spring to late fall
Plant in clumps rather than singly
Combine annuals and perennials
- Create habitat for nesting, resting, egg-laying and larval food
Keep some fallen branches and brush in places in your garden
Provide small patches of bare ground
- Avoid pesticides and herbicides. Herbicides, while normally not directly lethal to insects, can reduce plant diversity and thus essential pollen and nectar for pollinators.
- Provide a water source. Butterflies often congregate on wet sand or mud to drink water and extract minerals from the damp puddles. Many people are familiar with birdbaths, but remember to give birds, as well as bees and other insects, a landing pad so that they can drink the water from the bath.
Overview
The Pollinator Garden is planted with an assortment of both native and non-native shrubs and perennials. Plants chosen are known to be nectar and pollen sources for diversity of pollinators.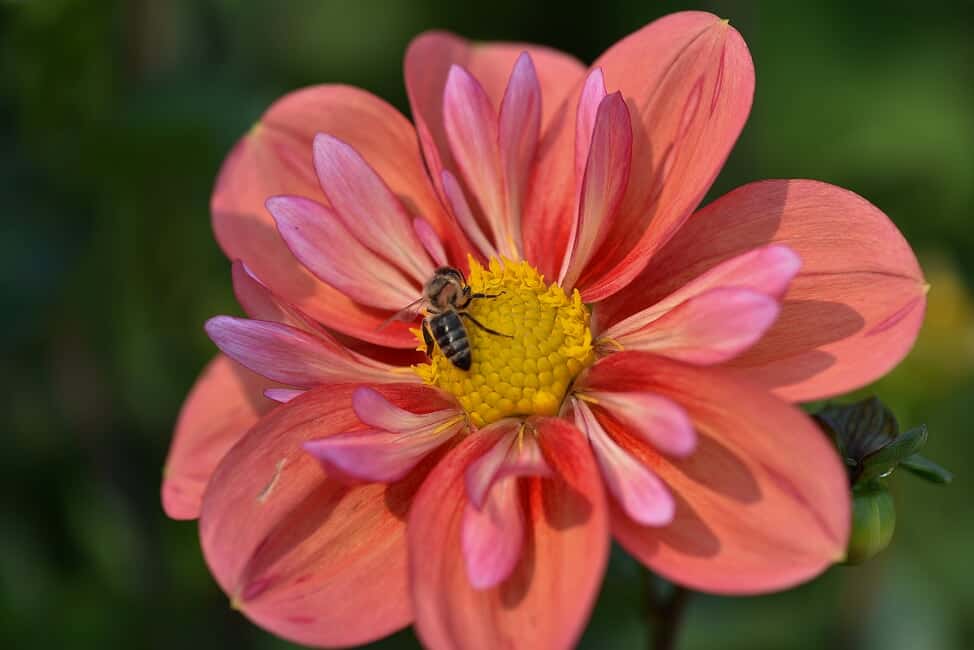 Why are pollinators important?
Pollinators are almost as important as sunlight, soil and water to the reproductive success of more than 75% of the world's flowering plants.  They play a key role in our ecosystem and are an essential link in agriculture.  They also provide nutrition in the form of seeds and fruits for many wild animals, both large and small.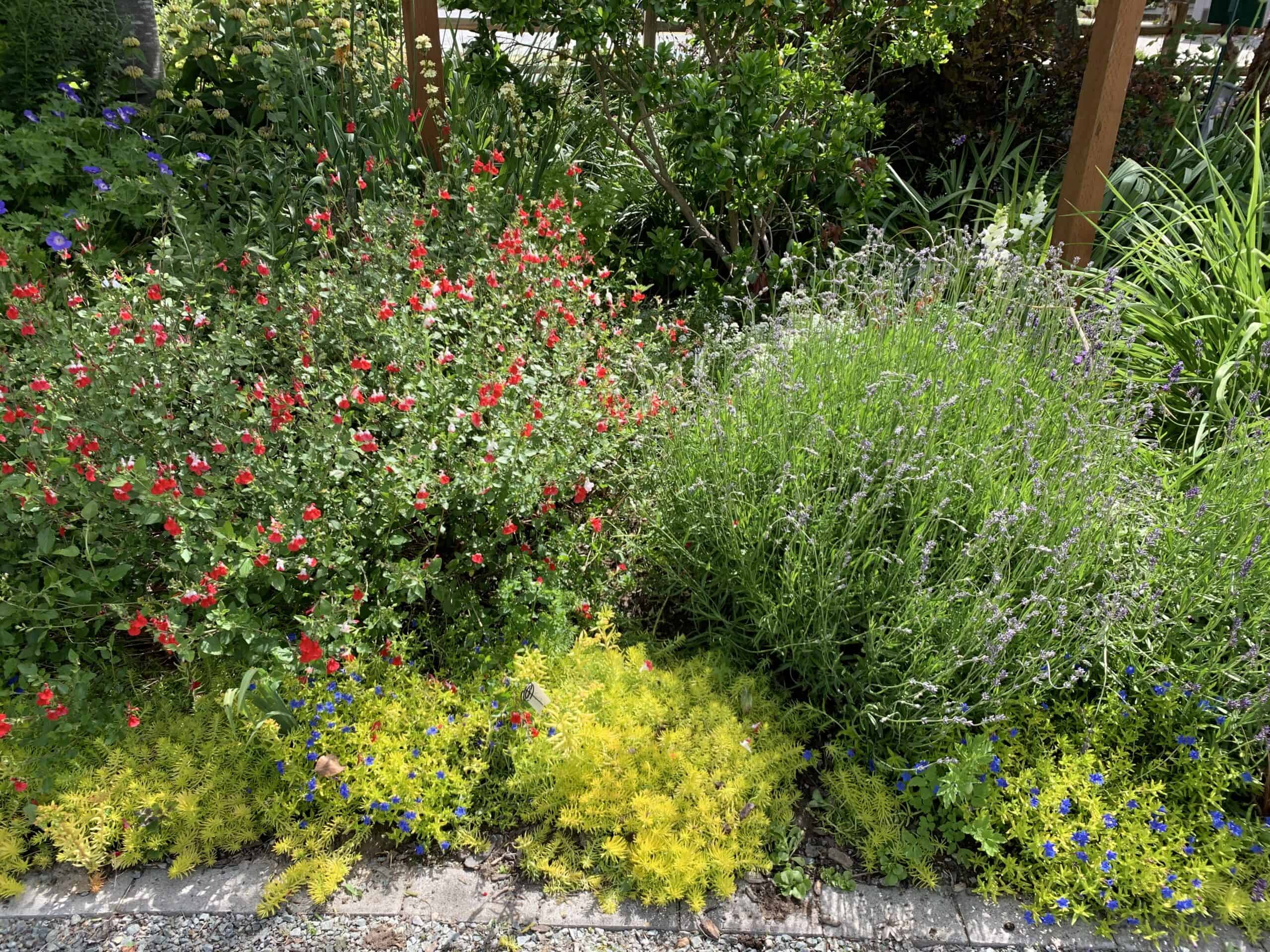 Pollinator Garden Plant List
| # | Botanical Name | Cultivar | Common Name | Tree | Native | Pollinators | Bloom Time |
| --- | --- | --- | --- | --- | --- | --- | --- |
| 1 | Achillea millefolium | | common yarrow | | * | bees, beetles | summer-fall |
| 2 | Alchemilla mollis | | lady's mantle | | | bees | summer |
| 3 | Aquilegia canadensis | 'Pink Lanterns' | columbine | | | hummingbirds, bees, butterflies | spring-early summer |
| 4 | Clematis x cartmanii | 'Avalanche' | avalanche clematis | | | hummingbirds, bees, butterflies | spring |
| 5 | Clematis integrifolia | 'Roguchi' | solitary virgin's bower | | | hummingbirds, butterflies | late summer-fall |
| 6 | Clematis | 'Daisy garden' | purple clematis | | | butterflies, hummingbirds | summer |
| 7 | Euphorbia griffithii | 'Fireglow' | fireglow spurge | | | bees | summer |
| 8 | Hylotelephium | 'Autumn Joy' | autumn joy sedum | | | bees, flies | late summer-fall |
| 9 | Lavendula angustifolia | | English lavender | | | bees, butterflies | summer |
| 10 | Meconopsis cambrica | | yellow Welsh poppy | | | bees | late spring-fall |
| 11 | Narcissus pseudonarcissus | | daffodil | | | bees | early spring |
| 12 | Schizostylis coccinea | | crimson flag lily | | | bees, butterflies | late summer-winter |
| 13 | Sedum kamtschaticum | | orange stonecrop | | | bees | summer |
| 14 | Spiraea japonica | 'Walbuma' | magic carpet spirea | | | butterflies | late spring- summer |
| 15 | Tulipa | | tulip | | | hummingbirds, bees, butterflies | spring |
| 16 | Vaccinium ovatum | | evergreen huckleberry | | * | hummingbirds, butterflies | spring |
| 17 | Verbascum | 'Sugar Plum' | mullein | | | hummingbirds, bees, butterflies | spring-summer |
| 1 | Achillea millefolium | | common yarrow | | * | bees, beetles | summer-fall |
| 2 | Allium giganteum | | giant allium | | | bees, butterflies | late spring-summer |
| 3 | Allium spaerocephalon | 'Drumsticks' | drumstick allium | | | hummingbirds, bees | late spring-summer |
| 4 | Anemone nemorosa | | wood anemone | | | bees, hover flies | early spring |
| 5 | Aquilegia canadensis | 'Pink Lanterns' | columbine | | | hummingbirds, butterflies, bees | spring-early summer |
| 6 | Aquilegia vulgaris | | columbine | | | hummingbirds, butterflies | late spring-early summer |
| 7 | Arbutus unedo compacta | | dwarf strawberry tree | | | hummingbirds | fall-winter |
| 8 | Asclepias tuberosa | | butterfly weed | | | butterflies, hummingbirds | early summer-fall |
| 9 | Borago officinalis | | borage | | * | bees, syrphid flies | summer |
| 10 | Calendula officinalis | | calendula, pot marigold | | | butterflies, bees, hover flies, beetles | spring-fall |
| 11 | Campenula rotundifolia | | harebell | | * | bees | summer-fall |
| 12 | Cosmos bipinnatus | 'Apricot Lemon' | cosmos | | | bees, butterflies | summer-fall |
| 13 | Crocosmia x crocosmiiflora | 'George Davidson' | montbretia | | | hummingbirds, butterflies | late summer-fall |
| 14 | Crocosmia x curtonus | 'Lucifer' | montbretia | | | hummingbirds | summer |
| 15 | Digitalis purpurea | | common foxglove | | | bees, hummingbirds | spring-early summer |
| 16 | Echinops bannaticus | 'Blue Glow' | blue globe thistle | | | bees, butterflies, hover flies | summer |
| 17 | Fuchsia magellanica var. gracilis | 'Aurea' | golden leaved hardy fuchsia | | | hummingbirds, bees | summer-fall |
| 18 | Geranium x Rozanne | | geranium Rozanne | | | bees | late spring-fall |
| 19 | Geum hybrid | 'Fireball' | giant avens | | | bees, butterflies, beneficial insects | spring-fall |
| 20 | Helleborus orientalis | | lenten rose | | | bees, flies, hummingbirds | winter-early spring |
| 21 | Hemerocallis lilioasphodelus | | yellow daylily | | | hummingbirds, bees, butterflies, flies | summer |
| 22 | Heuchera micrantha | 'Palace Purple' | coral bells | | | hummingbirds, bees | late spring-early summer |
| 23 | Hylotelephium | 'Autumn Joy' | autumn joy sedum | | | bees, flies | late summer-fall |
| 24 | Kniphofia uvaria | | yellow-orange torch lily | | | hummingbirds, beetles | summer |
| 25 | Lavandula angustifolia | | English lavender | | | bees, butterflies | summer |
| 26 | Lobularia maritima | | sweet alyssum | | * | bees, butterflies, hummingbirds | spring-late fall |
| 27 | Meconopsis cambrica | | yellow Welsh poppy | | | bees | late spring-fall |
| 28 | Milium effusum | 'Aureum' | golden wood millet grass | | | | spring |
| 29 | Moluccella laevis | | bells of Ireland | | | bees | summer |
| 30 | Monarda didyma | 'Jacob Cline' | bee balm | | | hummingbirds, bees, butterflies | mid-summer |
| 31 | Narcissus pseudonarcissus | | daffodil | | * | bees | early spring |
| 32 | Penstemon x glaxinoides | 'Garnet' | garnet penstemon | | | bees, butterflies, hummingbirds | summer |
| 33 | Polemonium caeruleum | | Jacob's ladder, Greek valerian | | | bees | spring-early summer |
| 34 | Polygonatum | | Solomon's seal | | | bees | spring |
| 35 | Potentilla fruiticosa | 'Pink Princess' | potentilla | | * | bees | late spring-fall |
| 36 | Primula | 'Sweetheart' | pink primrose | | | bees | spring |
| 37 | Primula | 'Corporal Baxter' | double red primrose | | | bees | spring |
| 38 | Rudbeckia fulgida | | coneflower | | | beneficial insects | summer-fall |
| 39 | Salvia microphylla | | hot lips | | | hummingbirds, bees, butterflies | late spring-fall |
| 40 | Schizostylis coccinea | | crimson flag lily | | | bees, butterflies | late summer-winter |
| 41 | Sedum album | | white stonecrop | | | bees | summer |
| 42 | Sedum spathulifolium | | broadleaf stonecrop | | * | bees, butterflies | spring-summer |
| 43 | Solidago rugosa | | goldenrod | | | bees, butterflies | late summer-fall |
| 44 | Spirea japonica | 'Walbuma' | magic carpet spirea | | | butterflies | late spring-summer |
| 45 | Tulipa | | tulip | | | hummingbirds, bees, butterflies | spring |